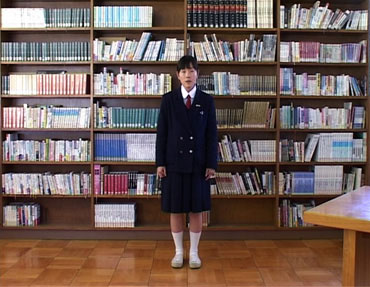 Stillbild från Mai Hofstad Gunnes WHAT DO YOU MEAN?

Mai Hofstad Gunnes WHAT DO YOU MEAN?
Lör 11, sön 12, lö 18 och sön 19 september
Vernissage lördag den 11 September 12-17


Den norska konstnären Mai Hofstad Gunnes visar i sina arbeten ett intresse för hur människans strukturer och system påverkar hur vi förstår, använder och upplever vår omgivning. Hon avslöjar maktstrukturer som gör att vi inser hur mycket vi har investerat i dem. I utställningen What do you mean? på Fylkingen visar Hofstad Gunnes en videoinstallation som undersöker betydelsen av japanska förnamn. I enkla intervjuer får man ta del av personliga historier där människor berättar om varför de heter som de gör.
Flera av Hofstad Gunnes tidigare arbeten handlar om arkitektur och individ. Två exempel är videoinstallationerna Nippon Steel, 2003 och Norska Torn, 2003, här ställs arkitektur och monument i relation till sin omgivning. Tornen som är manifestationer av makt och visuella auktoriteter i landskapet lyfter som raketer och förvinner upp i himlen. Mai Hofstad Gunnes är född i Oslo och är för närvarande IASPIS-stipendiat i Stockolm.


Mai Hofstad Gunnes´ work shows an interest in how manmade structures and systems have an influence on how we perceive, use and experience a given environment. She uncovers power structures inherent in everyday life encouraging people to question their investment in them.

At Xposeptember Mai Hofstad Gunnes presents What do you mean? a video installation which investigates the meaning of Japanese first names. In simple interviews one is introduced to individuals´ stories about their names. The given names act as a departure point revealing the hidden structures that play a role in the formation of identity.

In several of Hofstad Gunnes earlier works she also focuses on architecture and the individual. For instance, in the video installations Nippon Steel, 2003, and Norwegian Towers, 2003, architecture and monuments are seen in relation to their surroundings. Silent whilst daily life goes on around them, the towers which are manifestations of power and authority takes off like rockets and disappear into the sky.

Mai Hofstad Gunnes is born in Oslo, Norway and is presently based in Stockholm where she is participating in a studio program at IASPIS.