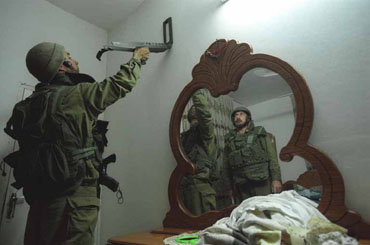 Foto: Nir Kafri, Tul-Qarem refugee camp, 2003. Israeli engineers demolishing a house in Tul-Qarem refugee camp.

Nadav Harel, Michel Khleifi, Ed Osborn, Eyal Sivan, Eyal Weizman m.fl

curatorer: Anselm Franke, Eyal Weizman och Rafi Segal

TERRITORIER, FRONTER OCH KRIGETS ARKITEKTUR
8 september - 10 oktober

För Xposeptember producerar Index en utställning tillsammans med Anselm Franke, Eyal Weizman och Rafi Segal, som tidigare curerat t.ex. utställningen Territories. Detta deras senaste projekt kan ses som en utlöpare till Territories, som handlade om arkitektur och stadsplanering i Israel och Palestina. Projektet fokuserar på återkomsten av fronten som begrepp i en samtida geopolitisk föreställningsvärld. I projektet kommer att ingå en film av israeliske dokumentärfilmaren Eyal Sivan, aktuell just nu på Manifesta. Eyal Weizman är även en av föreläsarna under Xposeptembers öppningshelg. Se Program.

Denna sidan kommer att uppdateras med mer information.

Territories, Frontiers and the Architecture of Warfare. For Xposeptember Index is producing an exhibiton together with Anselm Franke, Eyal Weisman and Rafi Segal, who earlier, among other projects, curated the show Territories, in relation to which this project could be seen as an extension. The project focusses on the return of the frontier into current geo-political imagination. Included in the show will be a film by Israeli documentary film maker Eyal Sivan, currently exhibited at Manifesta. Eyal Weizman is one of the participants during the Xposeptember opening seminars.

This page will soon be updated with more info.