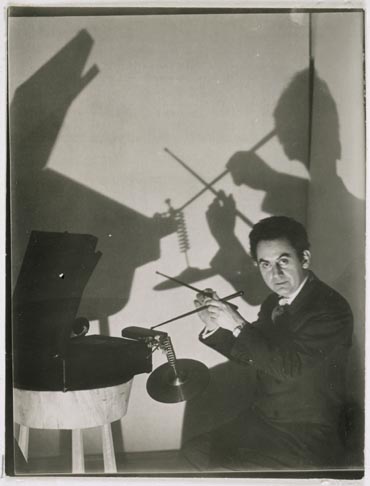 Man Ray. Självporträtt, 1936. Copyright Man Ray Trust/Adagp, Paris. Copyright Photo CNAC/MNAM, RMN.

Man Ray I PHOTOGRAPH WHAT I DO NOT WISH TO PAINT
4 september - 31 oktober

Emily Jacir WHERE WE ARE FROM
1 september -

Man Ray (1895-1976) är tveklöst en av 1900-talets mer uppmärksammade konstnärer. Hans särpräglade formspråk och tidskänsliga experimentlusta resulterade i ett brett spektrum av uttryck, från svartvita fotografier till skulpturala objekt. Moderna Museets utställning visar ett urval av denne mytomspunne surrealists verk. Utställningen kommer att spegla såväl fotobaserade verk som modefotografier, mångtaliga porträtt och enigmatiska objekt. Man Rays utforskning av kroppar och komposition framstår som märkligt samtida.
Fotografen Man Ray hittade nya vägar i mörkrummet. Han skapade abstrakta kompositioner med hjälp av vardagsnära föremål och transparanta material som han placerade på fotopapper och belyste. Därigenom uppstod, efter framkallning och fixering, många av de abstrakta kompositioner som gjort honom känd. En av de konstnärer som Man Ray porträtterade var Meret Oppenheim, vars verk visas i en parallell utställning på Moderna Museet. Beröringspunkterna dem emellan är flertaliga.
Vid andra världskriget lämnade Man Ray Paris och återvände till USA. Sorgen över att inte få vara i den franska huvudstaden och saknaden efter sina kvarlämnade arbeten fick honom att skapa en kollektion bilder kallade "The
Objects of My Affection". Dessa verk ingår nu i Moderna Museets samling.

Man Ray (1895-1976) is undoubtedly one of the most noteworthy artists of the 20th century. His idiosyncratic style and experimentation in the spirit of the time resulted in a broad range of expression, from black-and-white photographs to sculptural objects. Moderna Museet is featuring a selection of works by this legendary surrealist, including photo-based work, fashion photography, portraits and enigmatic objects. Man Ray's explorations of the body and composition reveal a remarkably contemporary approach.
The photographer Man Ray discovered new techniques in the darkroom. He created abstract compositions using everyday objects and transparent materials which he placed on photo paper and exposed to light. He then developed and fixated the images to produce many of the abstract compositions for which he is famous. Meret Oppenheim was one of the artists Man Ray portrayed. The two artists have many common traits, and Moderna Museet is showing her works in a parallel exhibition.
During the Second World War, Man Ray left Paris and returned to the USA. His longing for the French city, and his regrets about having to leave his work behind urged him to create a collection of photographs called The Objects of
My Affection. These works are now incorpo-rated in the Moderna Museet collection.

"Where We Are From" är en serie med ramade texter och fotografier. Texterna är svar pa Emily Jacirs fråga: "Vad kan jag göra for dig i Palestina, dit jag kan resa men inte du?". Fotografierna är ett slags bildbevis – en av fotografins mest traditionella funktioner – på att önskan har uppfyllts.






Skeppsholmen
#46 8 51955200
info@modernamuseet.se
www.modernamuseet.se




Fredag 10 september kl 18- 24
Man Ray . Konsert./ Moderna By Night.
Se vidare under Program.

Söndag 12 september, kl 12
Man Ray - Familjeprogra