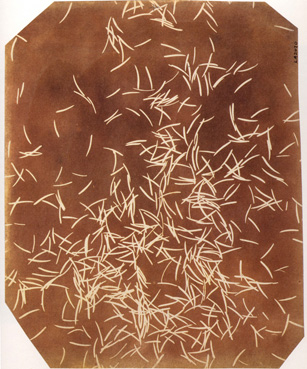 William Henry Fox Talbot, Cascade of spruce needles, 1839 photogenic drawing contact negative
CO-OP (editions) invites to "Repetition and Difference: The Dissemination of Photography" – a lecture by Geoffrey Batchen

"Repetition and Difference: The Dissemination of Photography" is the topic of Geoffrey Batchen's forthcoming book in which he takes photography's capacity for reproduction as a point of departure in order to suggest different ways of imagining photography's history.

"Although seldom engaged in published histories of photography, reproducibility is a key element of this medium's identity. Among other effects, it allows photographic images to be widely circulated, but it also gives the same image the capacity to come in many different looks, sizes and formats. It also makes it possible for an image to appear in many places at once and to exist simultaneously at many different points of time. Equally complicated is the way its capacity for reproducibility ties photography to the processes and social implications of capitalist mass production, making any study of its effects an unavoidably political issue."

CO-OP (editions) is a new publisher/editorial project dedicated to books in the field between literature, art, theory, documents, and aesthetic technologies. A first series of books, scheduled for spring 2011, will focus on reproduction technologies, and will include a booklet by Geoffrey Batchen in Swedish.

Geoffrey Batchen is currently Professor of Art History at Victoria University, New Zealand. He is the author of numerous books, including Burning with Desire: The Conception of Photography (1997); Each Wild Idea: Writing, Photography, History (2001); and Forget Me Not: Photography and Remembrance (2004). Most recently he has published What of Shoes? Van Gogh and Art History and Photography Degree Zero, an anthology for the MIT Press about Roland Barthes's 1980 book Camera Lucida: Reflections on Photography.

Thanks to Index, Hasselblad Foundation, Högskolan för fotografi at University of Gothenburg, and Skövde Högskola.