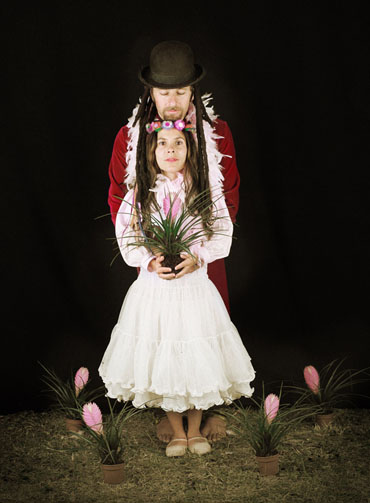 Foto: Glimpse, 2003 Charles and Alisarine from Glimpsemobil

GLIMPSE : Nadja Ekman, Malou Bergman, Mattias Larson och Alvaro Campo
10 september - 10 oktober


Glimpse är ett konstnärskollektiv bestående av fyra konstnärer/fotografer: Malou Bergman, Alvaro Campo, Nadja Ekman, och Mattias Larson. Detta samarbete skapar en lekfull atmosfär där idéer korsbefruktas och multipliceras.

Glimpsemobil utgörs av en mobil digital studio. Besökare blir fotograferade och bilderna visas i en växande installation och planeras att senare sammanställas till en bok. Syftet är att skapa en plats för upplevelser, där kameran fungerar som en katalysator. Interaktionen som uppstår mellan aktörerna i denna miljö inbjuder till en lek med identitet och yta, där en utställning av kläder (bärbara konstverk), fotografier och musik fungerar som inspiration.

I augusti 2003 genomförde Glimpse ett projekt under "Subörb" i Fittja, en tio dagars nycirkusfestival arrangerad av Cirkus Cirkör. Där kunde festivalbesökare köpa kopior från sin fotosession. Dessa skrevs ut på plats och levererades omgående. Sommaren 2004 utvecklas Glimpsemobile till en interaktiv audiovisuell "Jamsession" på Arvika Festivalen.

Under Xpo- September jammar Glimpse på Candyland , Gotlandsgatan 76.


Glimpse is an art collective, formed by four artists/photographers: Malou Bergman, Alvaro Campo, Nadja Ekman and Mattias Larson. In the cooperation the artists interact with each others creative processes and thereby multiply the possibilities.

GLIMPSEMOBILE is a mobile digital studio. The studio is equipped with a mixture of sculptural and inspiring outfits and sound system with the purpose to inspire creativity. The aim is to create a space for experiences where the cameras function as catalysts. The interaction between participants (visitors and artists) in this environment becomes a play with appearance and identity and the resulting images after being processed in different ways are arranged in a growing installation and will later be collected in a book. In August of 2003 Glimpse was invited to take part of "Subörb", a ten day international new circus festival in Stockholm arranged by Cirkus Cirkör. In the summer of 2004 Glimpsemobile has developped into an interactive audiovisual jam session at the Arvika Festival in West Sweden.

During Xpo-September Glimpsemobile will be jamming at Candyland, Gotlandsgatan 76.